『 AFRICA GIACOMETTI - DOGON 鐵雕展 』

2015.5.8 - 6.13


---

馬利是西非的文明古國。
在部落藝術裡DOGON鐵雕是很重要的,也非常具代表性。部落的人們對大自然相當地敬畏,而鐵匠具有操控火的能力,同時也是智慧的象徵,因此鐵匠擁有崇高的社會地位,甚至他們免除從野外工作,以鐵製品來換取農作物。

他們製作人物,動物或抽象形象的雕像,所代表的想法或精神是以服務社會為目的 - 防止疾病,乾旱,飢餓和惡毒的人,以簡潔、直線為基礎,將作品盡量簡化甚或消失,帶來無限的想像。運用極簡單一的線條,展現出自然地本性、韻味。

『線條』除了是繪圖造型中的基本元素之外,也可從線條衍生出在物件圖像的表現手法,由客觀至主觀的抒發、甚至直接以本質與單純觀念的呈現等等,探究背後隱藏的涵義轉換過程與發展,都相當有意思。
就以瑞士藝術大師 傑克梅第( Alberto Giacometti /1901-1966 )來說,他的作品受到非洲原始部落與大洋洲藝術的影響,進而影響他的藝術概念﹔表現出以細小、瘦長如火柴棒的人形雕塑著名。他曾說過:「人為什麼要畫、要雕塑呢?那是出於一種駕馭事物的需要,而唯有經由瞭解,才能駕馭。」其雕塑、繪畫及素描,都源於他對人物形象的獨特觀點。
1930年代嘗試過抽象概念後,他逐漸把焦點放在如何於雕塑品中刻劃出真實的概念。對傑克梅第而言,藝術作品應該要成為對現實的一種近乎存在式的再創作。

傑克梅第說:「…藝術品不是真實再現,而是創造具有相同強度的真實。」

多貢民族生活在馬里的中部高原地區,馬利Dogon的鐵雕作品表現冰冷的極簡、現代線條,形狀體積都是簡單的,且造型較極為單純,從具體到抽象的轉換。
如﹕馬利的多貢,班馬納人的騎馬者像是鑄鐵材質,人和馬的線條均呈細長狀,造型很抽象,雕刻者善用簡化的形狀,將身體與形體的基本結構,創造新的一種視覺體驗,維妙的表現出作品的張力,將作品細節增添更多層次。

這些形象作品將自身多餘的元素簡化至一個極致;如同生命般將最高的追求推衍至心靈層次,對我們而言在作品裡看見的不僅是一個形象,而是一個精神。

『 AFRICA GIACOMETTI - DOGON 』
Exhibition Of IRON SCULPTURE

2015.5.8 (Fri.) - 6.13 (Sat.)

Mali is a ancient civilizations in West Africa, it was also a first unified black kingdom of history. Dogon iron sculpture is not only very important but also representative in tribal art. Tribal people revere natural world, the blacksmith has the ability to manipulate fire, but also a symbol of wisdom, so blacksmith has lofty social status. They even remove the work from the field, take iron products in exchange for crops.

They make carved statue of the people, animals or abstract image. Rather they represent ideas or constructs to serve a social purpose - protect people from disease, drought, starvation and malevolence people, these artworks were based on simple straight line and greatly simplified, or omitted altogether, so bring unlimited imagination. Using of a very simple lines, showing natural nature charm.

Lines" in addition to being an essential element in the shape of a drawingexpress from objective to subjective, even it appears directly by essence and simple conception. It's interesting to explore the meaning behind and conversion process and development. For Alberto Giacometti /1901-1966, master of Arts in Switzerland, his artworks were affected by African tribes and Oceania Art. And influence his art concept. Before. Showing figure sculpture the famous for small, thin as matchsticks. He said :" Why do people paint and sculpture ? that is a kind of need from control of things, the only way to manage is realizing completely." His sculptures, paintings and drawings, all from his unique perspective on the characters. Works should be an re-creation with almost exists style in reality.

After tried to make the abstract concept in 1930s, he progressively focus on how to characterize the true concept on sculpture. For Alberto Giacometti, artworks should be
"...the object of art is not to reproduce reality, but to create a reality of the same intensity." ~ Alberto Giacometti

The Dogon are an ethnic group living in the central plateau region of the country of Mali, iron sculptures in Dogon Mali express cold, minimalism, modern lines, the shape is not only simple but also pure, it is transition from concrete to abstract.
Such as horse rider of dogon, bamana in Mali were made by metal materials. And the lines of people figure and horse are showed a slender, the shape is very abstract, sculptors are good at using a simplified form, and takes the basic structure of the body and form to create a new kind of visual experience, perfectly show tension of works and add more detail to works.
These image works will simplify their extra elements to an extreme, The pursuit of the highest level to the soul, for us, works are not only a image but also a spirit .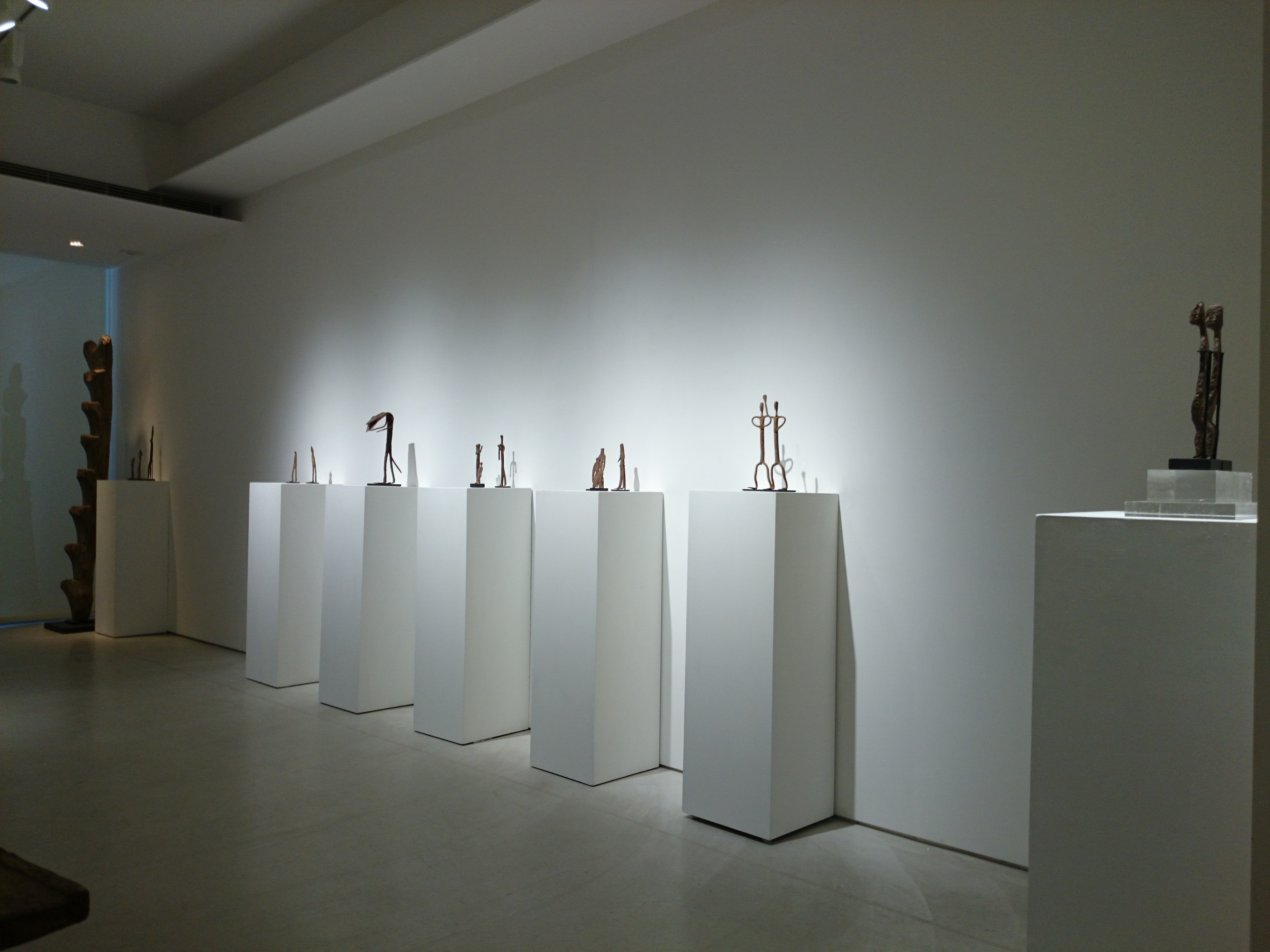 ---