『 鮑勒族主題展 』 12/3(六) - 1/7(六)

2016.12.3 - 2017.1.7


---
在華麗的髮型與圖騰下,隱藏著無限的細膩...

鮑勒族是象牙海岸重要的部落,在他們特有風格及細膩感的創作下,成了非洲部落藝術中最雅緻作品的代名詞之一。由一整塊木頭雕刻而成,他們的雕塑描繪著重在人類或動物的特徵下,一貫呈現光滑的表面、均衡的比例、清晰的線條,和圓潤帶有輕微的不對稱...等獨特美感,顯露了內斂但略有張力的表情,也強調精細編織的髮型,自信的形體美達到高度藝術性的指標。

面具主要分三種:第一種為水牛造型(1),起初是僅配戴於戰士,現在大多是保護村莊的象徵。第二種是圓形面具(2),在慶典時慶祝新作物並由顯貴的人佩戴,第三種是人臉面具(3),也有兩個臉在面具上象徵雙胞胎(4),人們認為雙胞胎是好兆頭。

雕像通常手依靠腹部,雙腿輕微彎曲的站立著,值得注意的是那精心線條的髮型,雖然雕像外觀相似當卻有不同的涵義,目的上通常有分兩種類型:第一種是叢林精神的代表較為罕見,是豐富收割及追獵的榮譽象徵,綴滿繡銅色。另一種是較常見的站立或坐著形式,為個人守護的象徵,表面大多是光滑。

根據曾任紐約大都會藝術博物館館長 -蘇珊•沃格爾 (Susan Mullin Vogel) : 象牙海岸的鮑勒族的高超的雕塑作品早已在歐洲和美國公認非洲最顯著藝術傳統之一。許多現代藝術家,例如:阿梅代奧•莫迪利亞尼(Amedeo Modigliani.1884-1920)的作品也反映受鮑勒形式的直接影響。

鮑勒族作品隱藏著無數的精心細節,一張漂亮五官的鮑勒族面孔沿著頸部,整個背部和肚臍周圍,那謙遜的外表下流露出最有力的美感。

The Exhibition of Baule Tribe
12/3(Sat.) - 1/7(Sat.)

There are infinite delicate hidden in the gorgeous hair and totem...

Baule tribe is an important tribe in coast ivory, under their unique style and delicate sense of creation, they became one of the elegant works synonymous in African tribal art. From a piece of wood carved, their sculptures depict human or animal characteristics with smooth surface, balanced proportions, clear lines, and rounded...etc. Revealed a restrained but slightly tension expression, also emphasizes fine weaving of hair, self-confidence of the body to achieve a high degree of artistic indicators.

Masks are mainly divided into three types: The first type is buffalo (1), at first, it was only for soldiers, now it's a symbol of the protection village. The second is a circular mask(2), The third is the face mask (3), there are also two faces on the mask symbolizing twins(4), people think twins is a good sign.

Statues usually put hand on the abdomen, legs standing with slightly bent, Although the appearance of the statue is similar, there are different meanings,
The purpose is usually divided into two types: The first is the representation of the jungle spirit, it is relatively rare for rich harvest and hunting symbol of honor. The other is the more common standing or sitting form, the symbol of personal guardian, the surface is mostly smooth.

According to former director of the Metropolitan Museum of Art in New York - Susan Vogel:
The superb sculptures of the Baule people of the Ivory Coast have long been recognized in Europe and the United States as one of Africa's most significant art traditions. Many modern artists, such as Amedeo Modigliani (1884-1920), also reflect the direct impact of the form of the Baule.

The details of the coiffure, the markings on the face, torso and the back, the beard, the firmed body as well as the seated posture show the figure to be a mature and important man among the Baule works.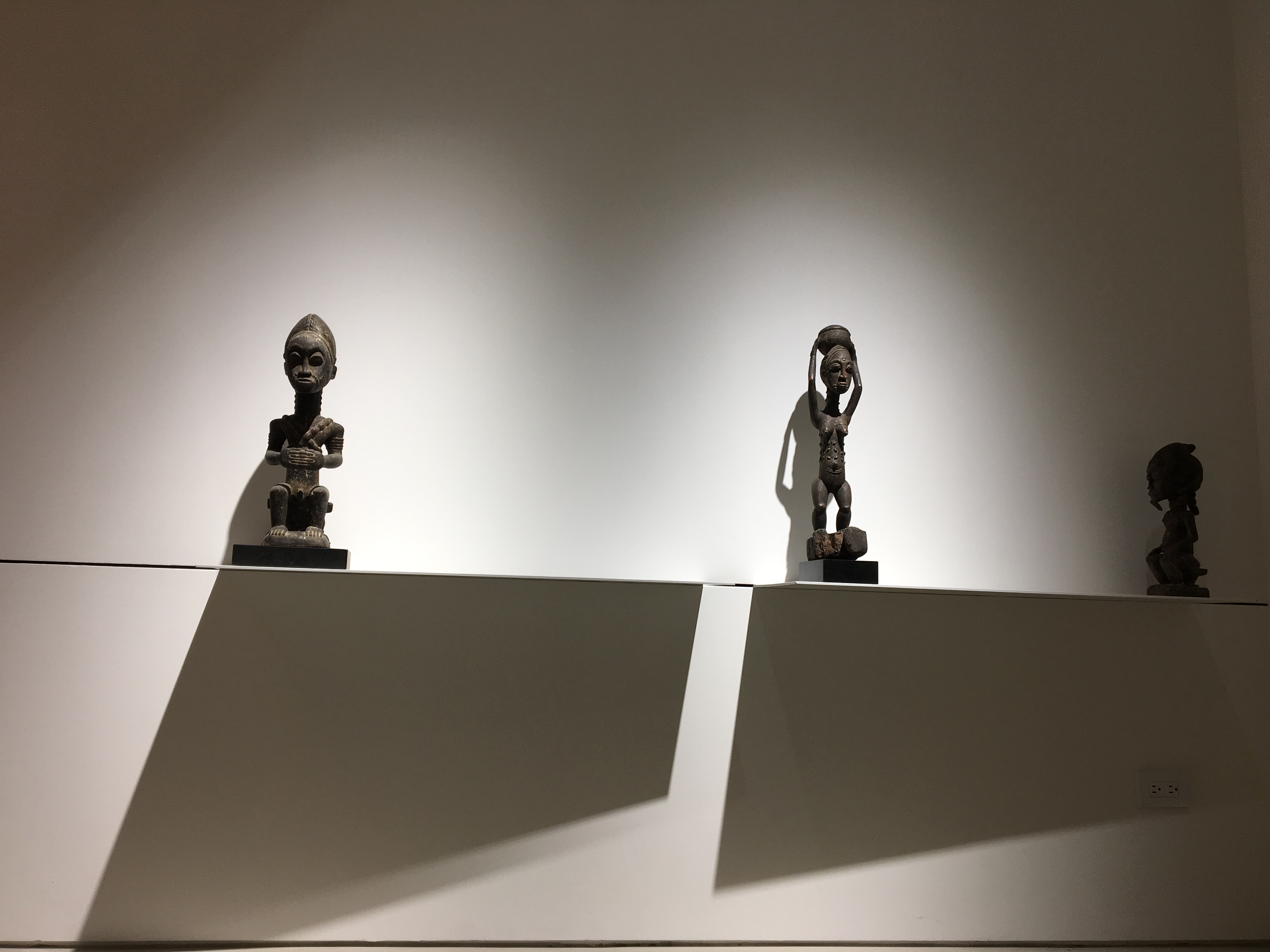 ---